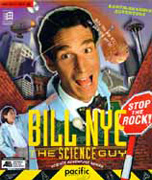 Bill Nye, scientist, engineer, comedian, author, inventor, is a man with a mission: to help people everywhere understand and appreciate the science that makes our world work.
While working on the "Bill Nye the Science Guy show", Bill won seven national Emmy Awards for writing, performing, and producing. The show won 28 Emmys in five years. In between creating the shows, he wrote five kids' books about science.
Bill Nye is the host of three currently-running television series.  "Bill Nye the Science Guy" and "The Eyes of Nye" air on PBS stations across the country.   "The 100 Greatest Discoveries" airs on the Science Channel.  He is also the host of "Stuff Happens".
He also recently filmed "Solving for X," for Disney, illustrating the P, B, & J – the Passion, Beauty, and Joy – of math.
Bill Nye is a graduate of Cornell with a Bachelors of Science degree in Mechanical Engineering. He holds two Honorary Doctorate degrees from Rensselaer Polytechnic Institute and Goucher College. Bill is also the Executive Director of The Planetary Society, the world's largest space interest organization.
Bill appears frequently on CNN, MSNBC and many other news and science media platforms.