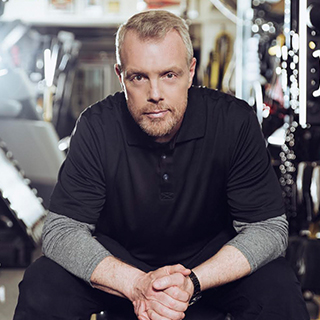 Gunnar Peterson is a Beverly Hills-based personal trainer whose clients include celebrities, professional athletes, and everyday people. Gunnar is also the Los Angeles Lakers' Director of Strength and Endurance. He is widely recognized for his expertise in functional training and his commitment to developing and implementing innovative fitness techniques. With over 28 years in the fitness industry, Gunnar's dynamic approach, boundless energy and (sometimes risky) humor only add to the effectiveness of the experience his clients enjoy. With a client list as diverse as his training methods, Gunnar emphasizes strength training modalities that can be transferred from the gym to daily life, from training camp to championship game. He has worked with athletes from the NBA, NHL, NFL, MLB, USTA, professional boxing (male AND female!) and various NCAA sports. Many film and television celebrities have also sought Gunnar's guidance in preparing for roles and have stayed on to become year-round clients, making him a cornerstone of their fitness regimen.
Gunnar is a sought after media personality and is regularly featured in publications including People, Fitness, Glamour, Elle, In Style, In Touch, US Weekly, Men's Health, Women's Health, Self and many other magazines/online media sites. His television appearances include Dr. Oz, The Today Show, Fox & Friends, CNN, CNN Headline News, Revenge Body with Khloe Kardashian, Extra, and shows for E! and VH1.
Gunnar's innovative approach and his devotion to pursuing and communicating only the most credible and effective fitness information have resulted in several corporate partnerships and business opportunities. Gunnar currently enjoys relationships with Propel/Gatorade, adidas, SmartFit, and SleepScore Labs.